Australia and Fiji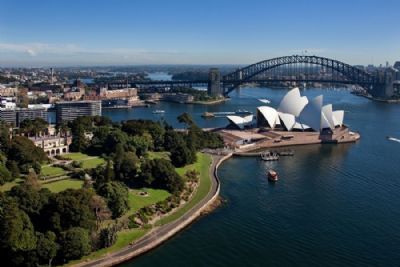 Australia and Fiji
Concrete meets sand in this combined itinerary featuring the breathtaking island of Fiji and some of Australia's most fascinating cities. Start off the journey by exploring the famed cosmopolitans of Australia. Travel to Melbourne and experience Aussie wildlife and the energy that makes up this vibrant and fast-paced city. Next, take off to the iconic city of Sydney and see the Sydney Opera House, Sydney Harbour Bridge and some of the best views in town. After your Aussie adventure, wind down with a retreat to Fiji. Spend your days lazing away under the Fijian sun and lapping in the crystal clear waters of this island paradise. You are sure to discover the perfect combination of bustling cities and tranquil beaches on this Australia and Fiji adventure.
Your Itinerary Includes:
Round trip private airport transfers
3 nights Melbourne
Lanes and Arcades walking tour
Koalas and Kangaroos, in the Wild excursions
3 nights Sydney
Sydney In Style tour
Cruise Like a Local Luncheon Cruise
Day Bridge Climb
7 nights Namale
Meals: 7 breakfasts, 9 lunches and 7 dinners
Adventure and Active
Luxury
Romance and Honeymoons
Safari, Animals, and Wildlife
Spa and Fitness Trips
Sun and Sand

Customizing the travel experience, Swain Destinations is the leading U.S. provider of completely personalized exotic vacation experiences. Since 1987, Co-Founders Ian and Linda Swain, and their dedicated team of destination experts have offered American travelers the opportunity to design distinctive trips to intriguing international locales, including Australia, New Zealand, the South Pacific, Asia, India, and Africa. From adventure-packed trips to leisurely getaways, Swain Destinations curates
...