Southern Patagonia: Glaciers, Fjords & Wildlife
on National Geographic Endurance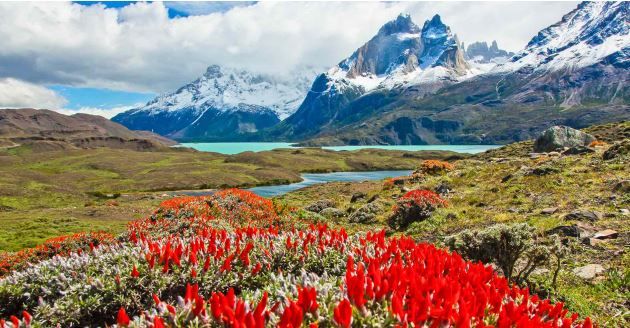 Southern Patagonia: Glaciers, Fjords & Wildlife
Long before humans arrived on the continent, glaciers carved the landscapes of Southern Patagonia and the Chilean fjords. Now it's a place for the grandest nature adventures: marveling at calving glaciers, whale and dolphin watching, hiking through rugged landscapes, Zodiac cruising among icebergs, and observing penguins by the thousands. Explore iconic Torres del Paine, where guanacos roam the vast steppe. Discover private reserves such as Karukinka; visit the newest marine reserve on the Chilean coast; take in the view of Cape Horn; and enjoy special access to Argentina's extraordinary Isla de los Estados (Staten Island). On hiking, kayaking, and Zodiac excursions, take in the natural treasures of a wilderness at the edge of the world.
Adventure and Active
Bucket List
About National Geographic Endurance
About Lindblad Expeditions

Going where awesome is for 50 years
Lindblad Expeditions goes to the most amazing places on the planet—40+ geographies in all. And they've planted a flag in many of them, deeply committing to remote wild places—like South Georgia and the Falklands; Patagonia, where they opened up Staten Island, 'the island at the end of the world,' for eco-tourism; and remote and beautiful regions of Polynesia, including the Marquesas Islands where few go.
Teams that do whatever it take
...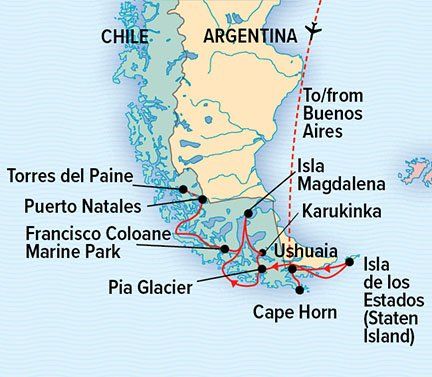 Day
Destination
1-2
U.S./Buenos Aires, Argentina
3
Fly to Ushuaia/Embark
4-5
Exploring the Chilean Fjords: Glacier Alley
6
Francisco Coloane Marine Park
7-8
Puerto Natales & Torres del Paine
9-10
Exploring the Chilean Fjords: Kirke Narrows
11
Punta Arenas & Isla Magdalena
12-13
Tierra del Fuego: Karukinka Natural Park & Bahia Ainsworth
14-17
Cape Horn & Isla de los Estados (Staten Island), Argentina
18-19
Ushuaia/Buenos Aires/U.S.